Popular Nature Vacations Quiz Results
Roll-Uh-Bowl Silicone Bong
Always on the go but still need to toke? We've got you covered with this silicone bong--so indestructible and portable that you can take it anywhere. Rolled up in your purse on the subway? Check. Stuffed into your daypack for a hike? Check. In your desk at work? As long as the boss is cool with it! Made of medical-grade silicone, this bong is lightweight and will go wherever you go. Plus, if you have a habit of breaking things, this silicone bong is your new best friend--just take extra care with the glass bowl! This silicone bong comes from Nucleus, a U.S. company that designs and crafts all of their products right here in the U.S. with only the finest materials and ingredients for smoking. This is a perfect starter bong for smokers of all levels and it makes the perfect addition to any pipe collection.
---
Storz & Bickel "Mighty" Vaporizer
Tough, rugged and always working: these phrases describe not only you, but the perfect vape for your next trail. If anything can endure the next hike like you can, it's a vape like the Mighty from Storz and Bickel. Crafted with top-notch materials in Germany, this vape is the toughest thing on the market today. Plus, with it's notched exterior, it's easy to grip no matter how precarious your hike might be. If you do drop this vape, it won't crack like some of the glass or cheaper plastic alternatives out there. Use this vape with either dry or concentrates, it's perfect for either situation. Even if you're on a nighttime hike, the LED display lets you control and view the precise temperature setting that your vape is at. Since you might be on a multi day hike, this Mighty vape fortunately comes complete with two lithium-ion batteries, so no matter how much you use this, it'll last you well into your hike.
---
Marley Natural Taster Chillum
Simple, beautiful, good for the planet and generating economic development? Sign us up! Marley Naturals is already a winner for their beautiful designs: made of pure glass and walnut wood, their pipe are reminiscent of the good old days, before pipes were filled with plastics and other carcinogenic additives. These pipes are great for portability and storage too: all of them unscrew into smaller pieces that are easier to fit into your backpack for hiking. With pipes available in every style: bubbler, spoon pipe, and a taster bat, you're guaranteed to find something that's perfect for your needs. Best of all, Marley Naturals donates a large percentage of their profits to help Jamaican artisans and organic farming initiatives in Jamaica. For those who want to both enjoy nature while doing their part to ensure conservation of the planet, this is your pipe; plus, you'll look extra sophisticated with these elegant glass and wood designs.
---
You need to be prepared for any situation: maybe it's having something rolled and ready to go for the impatient smoker in your group (which could be you, by the way) or even have some extra flower prepared and ready to go for your buddy who needs to re-up. Either way, preparation is key on the kinds of nature outings you do, and nothing could help you be better prepared than a taster box from RYOT. Famous for their multi-use boxes, RYOT creates small, simple boxes that won't take up much room in your backpack, but will add a lot of value to your next hike. Pack in a rolled one, store extra dried flowers, add in a taster bat, and keep a cleaning tool for your other pipe or even as a multipurpose tool to have on your hike. Choose from either a plastic taster box or upgrade with a fancy wooden one. Either way, prepare to become the most popular toker on the next hike, as you'll have all the goodies ready to go.
---
Let's be realistic: as much as you love your 2 foot tall bong or desktop vape, a hike is the worst time to pack those guys up and take them on a hike. What really matters is ease and portability for you when in nature, so now's the time to pick your favorite vape pen. For us, nobody does this better than PuffCo, and for many reasons: this pen is tiny, but that doesn't mean it's the same as those cheap ones you can buy in a gas station. No my friend, this is a tiny piece of luxury: the cap allows you to adjust the airflow with a simple twist, so no matter how out of breath you might be on your next hike, you'll get the perfect mixture of air and flower. Whether your idea of a good time outdoors means sipping margaritas by the beach or a more vigorous jog through the park, this is the perfect pen that won't take up much space but deliver a crisp and delicious hit.
---
Share Your Results With Us on Instagram!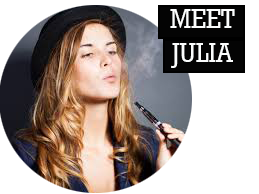 Julia, a flower child hailing from Spain, discovered her love of fresh herbs years ago when she accidentally became head of product at a farm in Oregon.
She loves long walks on the beach, accordion music and of course spending time with her favorite Yocan Evolve D (only in blue though). She promises to not bias her blog posts towards vaporizers too much, but no guarantees.