You track your steps, check your email and all social media from your phone--why not track your vape seshes too? Just when you thought vapes couldn't get any cooler, now they are. While it might sound odd for your favorite pastime to now have an app, vapes with accompanying apps will elevate your experience in ways never imagined. Interested in making your stash last longer? Apps can help. Want to see exactly how much herb you're using a day? Use an app. From reminding you to charge your vape to finding it using GPS tracking when it's lost, the newest vapes with apps will make your life even easier.
Vaporizers With A Smartphone App:


 
PAX 3
FireFly 2
DaVinci IQ
Crafty
Which vape app is best for me?
While each app is going to add value to your life, we do have some preliminary recommendations on which vape is best for each herbal fan:
Outdoors and Nature Fanatics: If you love being outdoors, the Crafty is perfect for you: it's durable, can go for multiple seshes without needing a refill, and has an automatic shutoff to preserve battery when you're out in the wilderness without power for days.

Vapers on the Go: The FireFly 2 is where it's at for all of our busy professionals on the go. Its sleek design and functionality will be perfect in a business meeting or on the subway. Its fast and efficient, just like you.

Free-spirits: For all of our hippie children out there, the DaVinci IQ is a great choice for you. No worries if you space turning it off, as you can control everything from your phone.

Techies: Whether you're a software developer or just someone with a knack for technology, you'll love the high-tech specs available on the PAX 3.
DaVinci IQ App
We already love this DaVinci IQ vape even without its app: the beautiful packaging, slim design, and smooth delivery makes this an award-winning vape. We highly recommend this vape for more experienced veterans who might have a higher tolerance for herb, as this is a perfect vape to take long, deep pulls from. A dry herb vaporizer, the DaVinci IQ might be the easiest to use dry herb vape as well, since it's incredibly easy to refill and you won't be wasting any flower with it's easy loading chamber. Even better, the DaVinci IQ app features add a new level of intrigue to this vape, and there's some aspects you won't find in other apps:
Turn on and off the DaVinci IQ directly from your phone, so even if you're left the house and forgot to turn it off, you won't be draining the battery.

Adjust temperature controls directly from your smartphone.

Set a timer on your DaVinci so it isn't left on all day, but only for the duration of a vape sesh.
---
PAX 3 App
Who doesn't love the ingenious PAX 3 vape? A mini oven created just for your dry herb and oils, this device is constantly racking up awards for its delicious vapor and ease of use. We also love the beautiful metallic exterior, available in a variety of colors. This dual-use vape is quality stuff: it comes with a 10-year warranty and only takes an hour to fully charge. If you're a first-timer, this is a great vape to start with, as it's easy to use and will give you great flavor no matter what setting it's on. To really get an in-depth look at the PAX 3, check our our complete PAX review here.
There are certain vape settings on the PAX 3 that are only accessible via the PAX 3 and PAX Era app. These aren't just little frills to enjoy the PAX 3, but are settings that can help you conserve your herb, get the most flavor out of your flowers, and even a stealth mode that powers down the LED lights and gives you an odorless vapor.

Games! Need we say more? You can play games on the PAX 3 with the app, just in case your vaping buddies have left and you're having a solo sesh.

Security: is your significant other or friend always borrowing your vapes and using all of your herb? Lock your PAX 3 with the security option that allows only you to unlock and use your vape. Problem solved.

Precision: Control your vapor to the precise Fahrenheit degree.
---
FireFly 2 App
Designed for "people who love the plant," the FireFly handheld vape is a great dual-use vape that's small enough to slip into your pocket. Called the "iPhone of vapes," this dual-use vape might get mistaken for a smartphone with its sensitive touch button that heats your flowers instantly after you press the button. This vape also features a air-activated borosilicate glass mouthpiece, meaning all you need to do is inhale from the mouthpiece and vapor will emerge. Not only is this vape quite a looker, available in various types of natural wood, the FireFly 2 app is pretty killer too.
Control your vape in either Fahrenheit or Celsius, ranging from 200-500 Degrees Fahrenheit in 10 degree increments, as we know some of our flower friends don't live in the U.S.

Check your battery level from anywhere on your phone, so you know exactly how much time until your next charge.
---
Crafty App
If your herb had a fave place, it'd be a Crafty vape from Storz and Bickel. These things are one of the most consistent and reliable dual-use vapes on the market today. This little vape is perfect as your everyday vape or as a portable option too. We recommend this for people who hate repacking their vapes (and also as the perfect vape for serious bikers): an extra deep chamber lets you go for several vape seshes without needing to repack your dry herb or concentrates. Best of all, the Crafty's vapor tastes great and there's fun features on the Crafty vape app too.
Controllable automatic shutoff: Choose between 60 seconds and 5 minutes to automatically shut off the Crafty. This is a great way to conserve battery and give you less to worry about.

Temperature: Choose between Celsius and Fahrenheit temperature controls.

Log time: You can see exactly how many hours you've used the Crafty to vape with.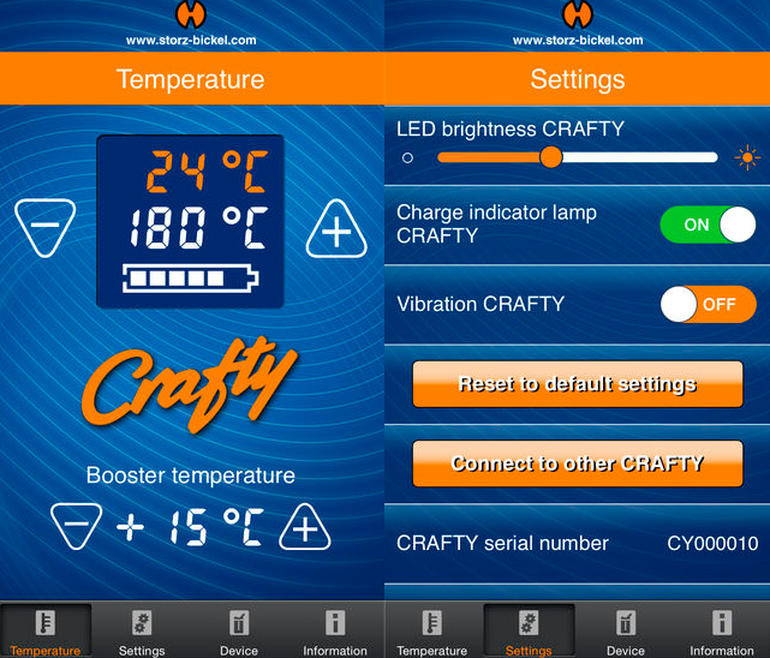 ---
Whether you're deciding to buy a vape for the first time or upgrade your current vape situation, we can't recommend vapes with apps enough. No matter which one you pick, it's sort of like having a remote control for your television--although we used to live life without these, remote controls truly changed TV watching as we know it, allowing us to kick back on the couch without having to leave to switch channels or adjust the volume. A new level of comfort and ease has arrived with vape apps.