Glass fans are in heaven with all the cool new accessories being developed now that cloud culture has gone mainstream. One of the best-selling new innovations is the ash catcher. Ash catchers are a relatively new addition to the glass scene, so we're dedicating this article to helping newcomers understand what ash catchers are, what they do, and how to use them.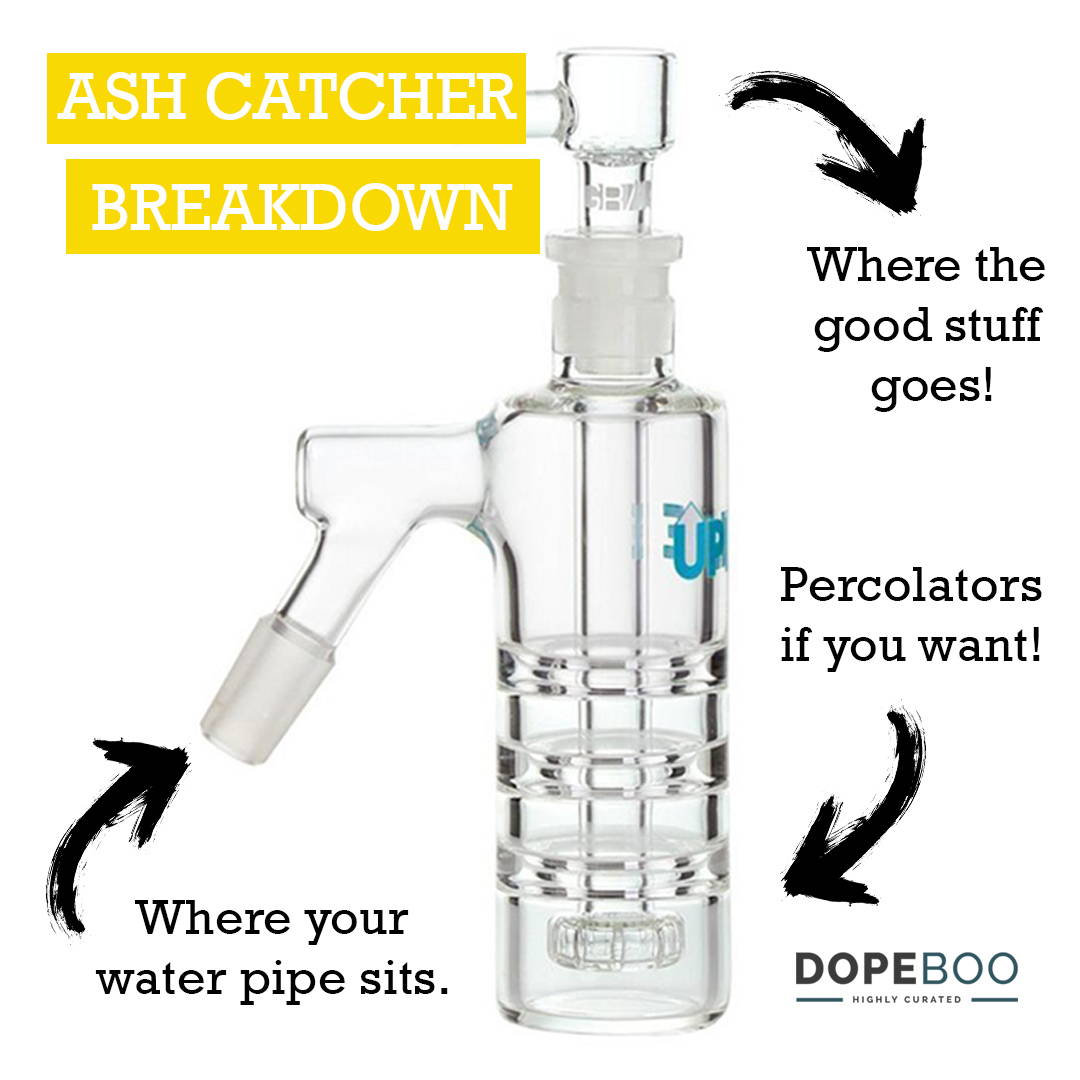 What is an Ash Catcher?
A small glass chamber that sits on the joint of your water pipe (between the bowl slide and the pipe itself). It's filled with water, and may even include some extra percolators. The primary purpose of an ash catcher is to catch loose debris before it ends up inside your bong.
The central idea behind ash catchers is simple. The piece acts as a removable barrier and an extra layer of diffusion for your water pipe. For instance, if your rip the GRAV 12" Straight Tube Flare Bong without an ash catcher, you'll likely end up with herb ash in your piece. But if you use an ash catcher, such as the Boo Glass 8-Arm Colored Tree Perc Ashcatcher, your hits will be smooth and ash-free.
Not all ash catchers are the same. The attachment can feature different percolators to diffuse and filter the smoke before it hits the main chamber and percolator of your pipe. Because of this, you should know the size and gender of your water pipe before purchasing an ash catcher.
Why Use An Ash Catcher:
It keeps your pipe clean for longer.

Every puff is fresh and pure -- never "eat."

It's much easier to rinse or soak an ash catcher than a full-sized water pipe.

To try out new percolators; add diffusion to simple (easy to clean) water pipes.

Rejuvinate old sidekicks without buying a whole new pipe.

Invest in thick glass that's easy to clean so it lasts a while. Perc it up in the ash catcher instead!

They look awesome!
---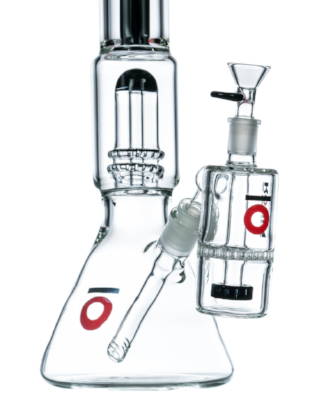 Which Ash Catcher is Best?
Before you buy an ash catcher, make sure it suits you and your water pipe:
> Joint Diameter (10mm, 14mm, 18mm)
> Joint Angle (45°, 90°)
> Joint Gender (male, female)
> Which percs do you want to experience? (Honeycomb, Showerhead)
---
Other Neat Features:
Some ash catchers accentuate the percolator, such as the Barrel Perc Ash Catcher. The tool makes any water pipe more impressive.
The coolest adaptor (pun intended) might just be the GRAV 5" Chiller Glycerin Adapter with a covetable interior coil. The unique piece delivers chilly and smooth inhales. To use the GRAV piece, simply pop it in the freezer for several hours. Then, hook it up to your water pipe and enjoy the most exhilarating toking session of your life.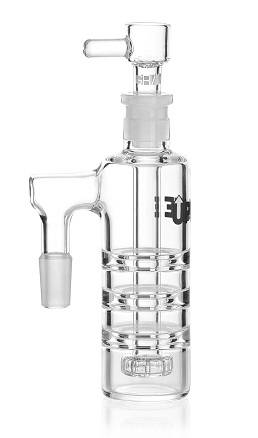 ---
Additional Considerations:
Ash catchers are inexpensive and helpful, which is why we recommend them to herb enthusiasts. However, like all products, they do have some down-sides.
The primary consideration is that an ash catcher can require additional drag. In other words: too many small-holed percs can make it take a lot of lung-power to pull on.
---
DopeBoo's Top 5 Ash Catchers
DopeBoo carries dozens of ashcatcher options. Here are a few of our top-rated bestsellers!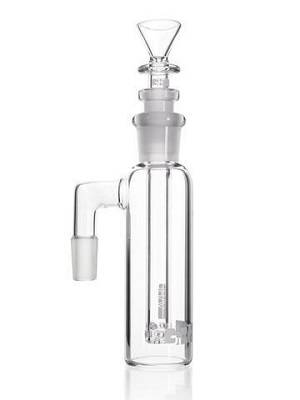 GRAV 5.5" Standard Bong Ash Catcher
This is a standard glass ash catcher made by GRAV, a company known for churning out quality products. The "perfect water pipe" will protect your favorite glass pieces by trapping excess ash that my otherwise find itself trapped in the percolators of your favorite water pipes.
The 5.5" ash catcher is made from thick, borosilicate glass and is easily transferred between 45°/14mm joint pipes. The Swiss downstem, which adds another round of smoke-softening, is removable for easy maintenance. Learn more here.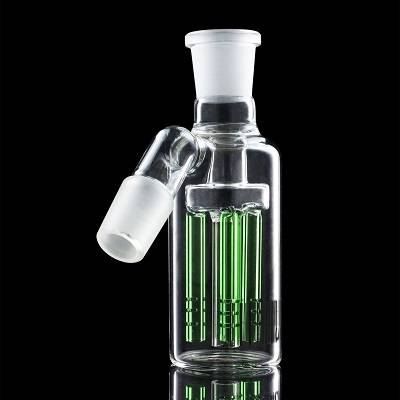 UPC 4-Arm Tree Perc Ash Catcher
This ash catcher is ideal for those on a budget. The UPC is available in either 14 mm or 19 mm, and comes in a variety of colors. When purchasing this ash catcher, you can choose from 45 or 95 degrees.
The product is made from 100% American glass. Because of its high-quality, the piece will last longer, break less, and feel sturdier in your hands. As is outlined on the product page, the UPC ash catcher is crafted with borosilicate glass that is known for being extremely durable against breakage. It's also non-toxic and is easy to clean. Learn more here.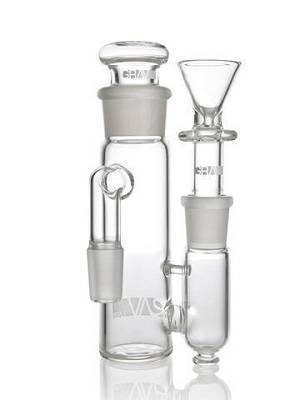 Grav 5.5" Phoenix Bong Ash Catcher
This groovy attachment is designed by GRAV. As we mentioned above, the brand upholds high standards for pipe protection, cooling, and smoke softening.
The piece is constructed with borosilicate glass which is extremely durable against breakage. Some consider this ash catcher to be a "must have," simply because it adds a touch of exhilaration when you fill the glass can with ice.

To ensure the product withstands the test of time, GRAV included a lid for low-effort cleaning. Learn more here.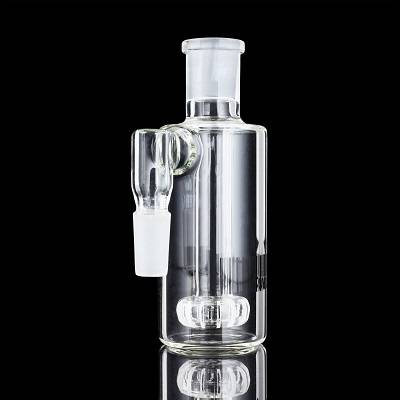 UPC Ash Catcher with A Showerhead Perc
This angled-joint ash catcher is available in 45 or 90 degrees.
UPC handcrafts their glass in Los Angeles, California. They've quickly become one of our best-selling ash catcher brands (as well as ranking high among dab rigs!).
GRAV 6" Upline Bong Ash Catcher
This attachment is considered to be the "king" of ash catchers. Why is this? Because the 6-inch borosilicate glass piece delivers seriously smooth smoke.
Thanks to the 8-cut diffused disc downstem, every pull will be fresh. You may even find that your high is more pronounced and lasts longer.
With this ash catcher, you won't have pesky ash falling into the chamber's water. This means the task of cleaning your bong will be much easier. Discover for yourself what the luxurious future of smoke feels like.
Anyone who enjoys smoking will, at one point or another, invest in an ash catcher. They just make sense! Not only do ash catchers reduce the amount of time you have to spend cleaning your pipe, they also produce a smoother experience.
And, as was noted above, there is a variety to choose from! You can find custom-made ash catchers that fit your fandom. Or invest in unique pieces that make puffing on herb a truly luxurious experience.
---