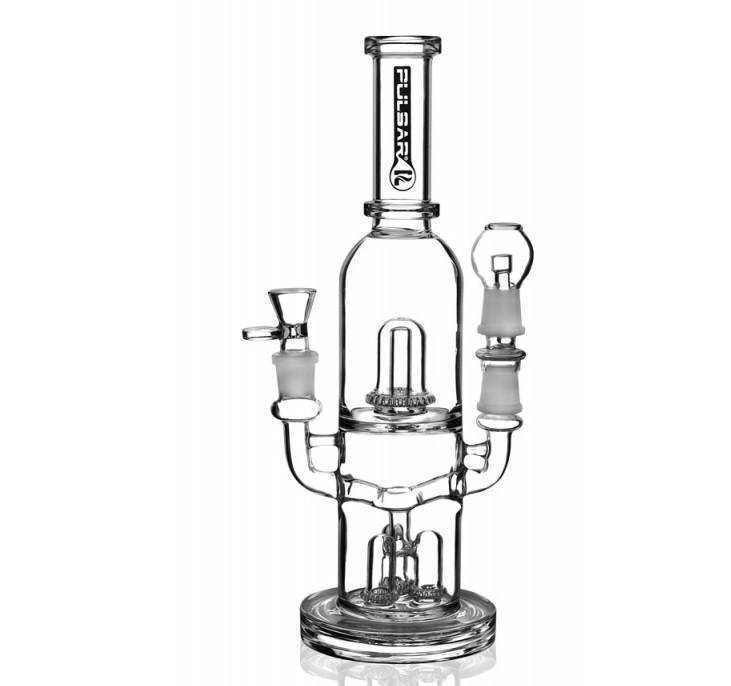 Pulsar Dual Herb & Oil Perc Water Pipe
For those who can't decide if they're feeling like concentrates or dry herb, this is the perfect pipe for you! With two joints, this pipe can be used with either dry herb or concentrate--and yes, you can even use both at the same time with a friend. A wide thick base on this pipe adds extra stability and is perfect for those who have a tendency to knock things over. This bong also features a fantastic showerhead perc system that will make your smoke super smooth: starting with three mini showerhead percs that filter the initial smoke, there's an additional larger perc right before the mouthpiece to make your smoke all the more delicious. With extra thick glass, this pipe is here to last and will endure many smoke and dab seshes, no matter how hot things get. This dual water pipe comes with a glass bowl, nail and dome, but you can add on any 18mm male accessories.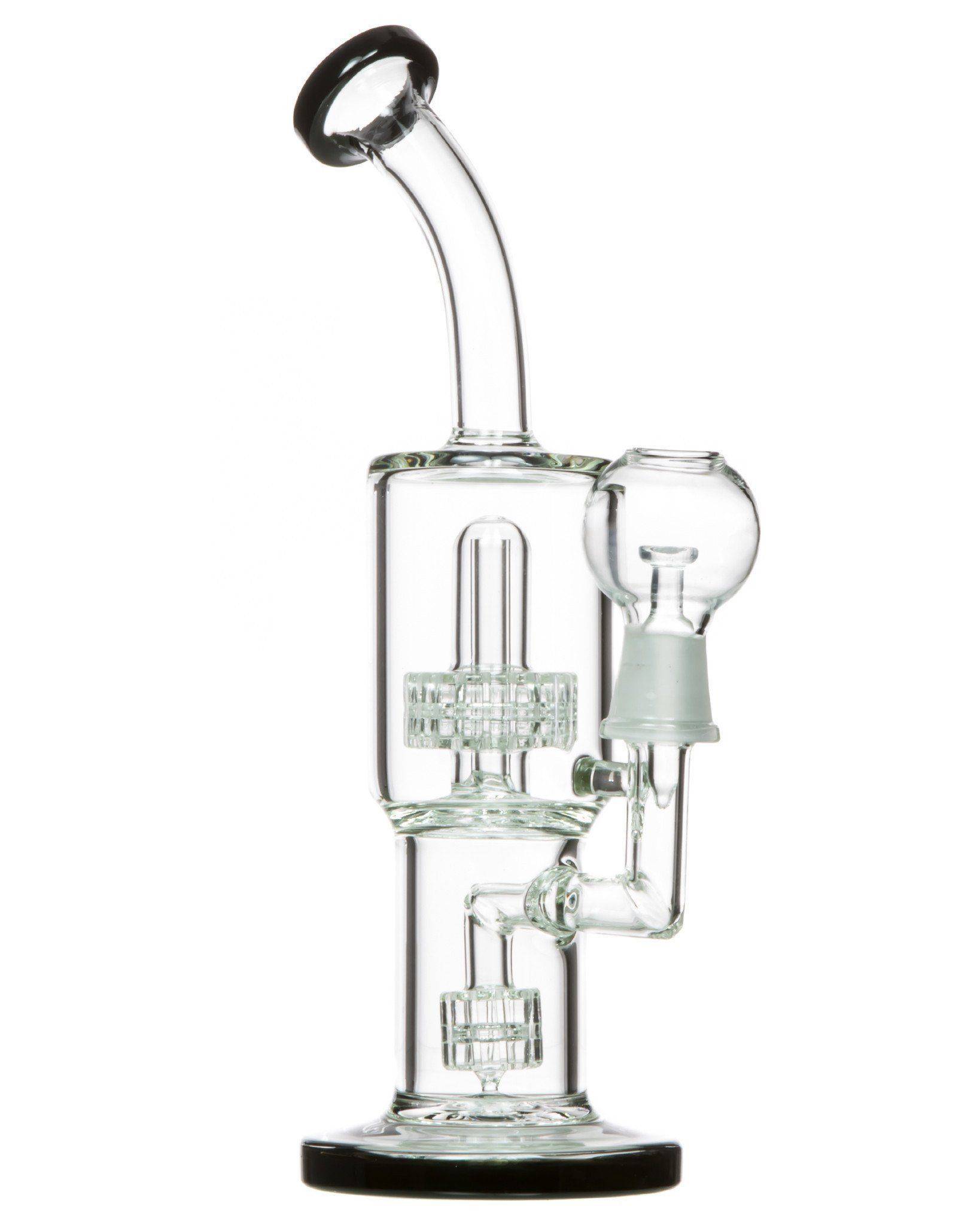 Stereo Matrix to UFO Perc Dab Rig 
Calling all concentrate lovers! Whether you've dabbed before or its your very first time, this is one rig that we can't recommend enough for friends of wax all over the world. This is a sweet rig for multiple reasons: the percs on this dab rig are insane. Starting with a stereo matrix perc, this perc then filters smoke upwards into a UFO perc, giving you incredible flavor for your concentrates. This wide, sturdy base gives you extra stability since its less likely to tip over. At only 9 inches tall, this little rig is powerful but mighty, perfect for the smallest of apartments. A bent neck acts as a natural splashguard so you're not getting a mouthful of dirty bong water when you inhale--it also means you won't have to crane your neck over this pipe to use it. Enjoy this dab rig and the female dome and nail that it comes with.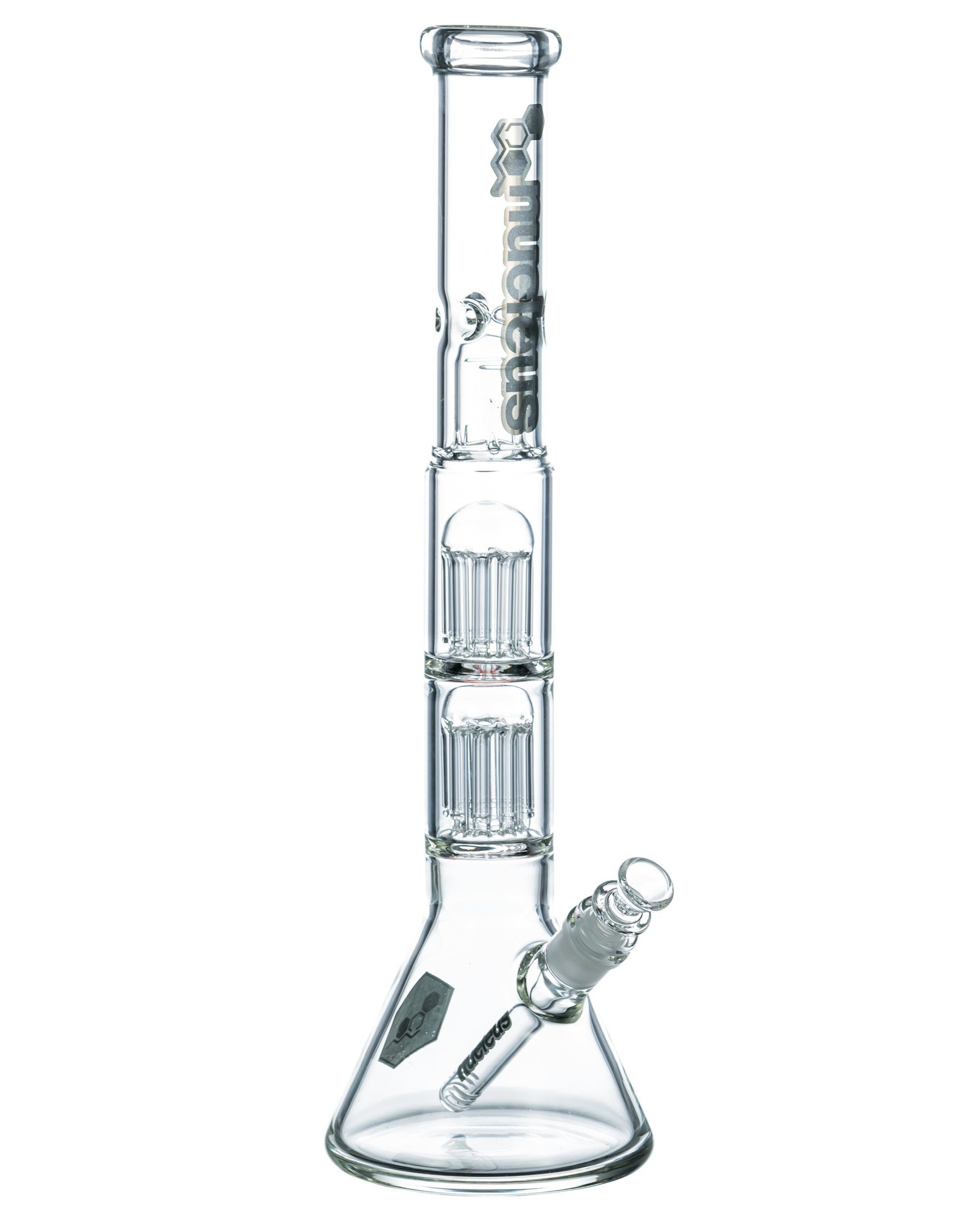 Double Tree Perc Beaker Bong With Splashguard
If you love dry herb first and foremost, than this is the bong for you my friend. Looks can be deceiving with the simple appearance of this classic straight tube bong from Nucleus: a double tree perc system inside filters your smoke like a dream. Tree percs are so called for their multiple arms all in one perc that create more diffusion and filtration that regular disc-shaped percs do. Two tree percs are stacked on top of each other to efficiently soften your smoke. There's even more diffusion going on with a removable diffused downstem--easily replaceable in case you drop it, and it's super easy to remove and clean. The wide beaker base makes this pipe more stable, and beaker shapes maximize the water's surface area for prime filtration. There's more surprises in this pipe too: an ice pick and splash guard built right into the neck let you cool down your smoke and ensure you're only inhaling smoke and not any bong water.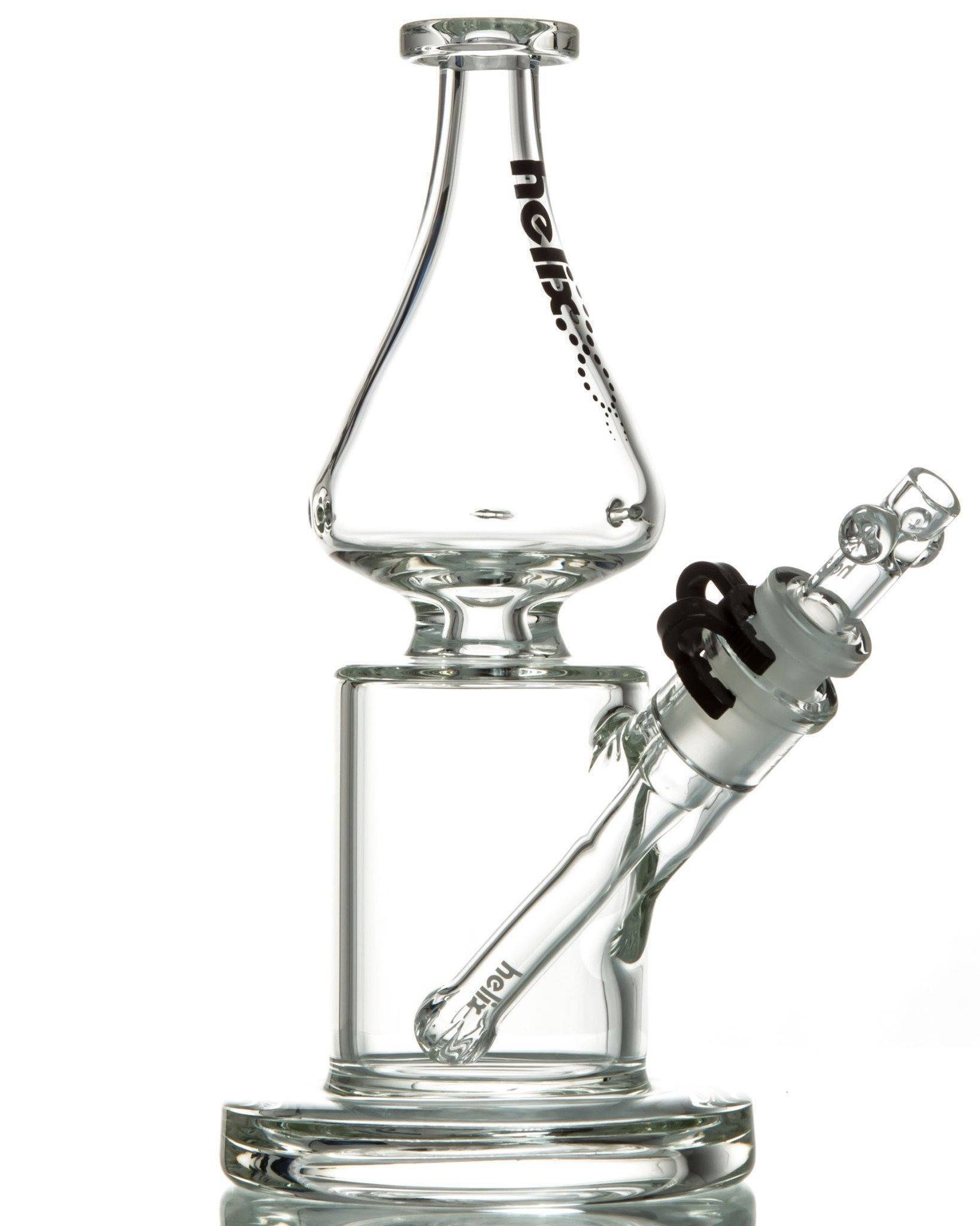 Nano Bong from GRAV Labs
Whether you're constantly on the go or just don't have a lot of room to spare, this nano rig is the perfect water pipe for you. At only 10 inches, this is quite small for a dry herb water pipe, but this thing rips like nobody's business, in part due to the unique Helix design neck from GRAV Labs, which uses a unique physics principles to create a helix pattern as you inhale, pulling cool air from the surroundings to give you a nice smooth hit. A removable downstem not only makes this bong easy to clean, it also adds to the filtration of this bong. No worries if you're clumsy--the wide base on this little rig makes it nearly impossible to tip over. We love that this nano bong is from GRAV Labs, an Austin based company that designs and crafts all of their pipes in Texas from only the best materials.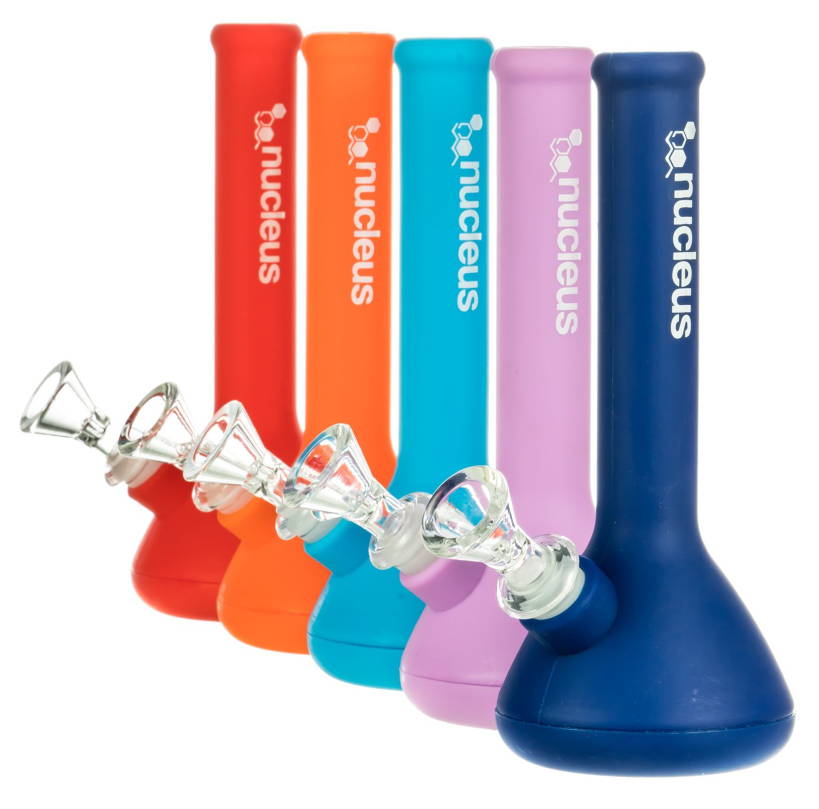 Silicone bong
Always on the go but still need to toke? We've got you covered with this silicone bong--so indestructible and portable that you can take it anywhere. Rolled up in your purse on the subway? Check. Stuffed into your daypack for a hike? Check. In your desk at work? As long as the boss is cool with it! Made of commercial-grade silicone, this bong is lightweight and will go wherever you go. Plus, if you have a habit of breaking things, this silicone bong is your new best friend--just take extra care with the glass bowl! This silicone bong comes from Nucleus, a U.S. company that designs and crafts all of their products right here in the U.S. with only the finest materials and ingredients for smoking. This is a perfect starter bong for smokers of all levels and it makes the perfect addition to any pipe collection.