In 2019, the online headshop market is experiencing rapid growth, and it's largely being driven by women and cannabis concentrates.
DopeBoo analyzed over two years of its online headshop customer data and extrapolated major trends and insights into shifting customer demographics.
---
Investment in our maturing industry has reached a fever pitch. In April 2019, PAX Labs' $420 million private-investment round made the vaporizer company a unicorn, valued at $1.7 billion. Later that month, Canopy Growth Corp announced a $3.4 billion deal to buy industry investment giant Acreage Holdings. That deal will remain unconsummated until U.S. government removes federal prohibition.
Federal regulatory framework continues to develop around a potential legalizing measure. The STATES Act, which would distance states from federal incursion, was introduced in April 2019 to bi-partisan senate and house support. The Secure And Fair Enforcement (SAFE) Banking Act vote advanced beyond the House Financial Service Committee. If adopted, the measure would allow federally-insured banks to extend loans and invest in industry operations. Speaking on states' march toward legalization, Attorney General William Barr reluctantly admitted federal legalization as potential path forward.
Emerging Investments and federal support reflect a simultaneous revelation in society; the industry is shifting. New customer populations are joining the market, looking for information and gravitating to newer, non-traditional products.
Introduction to Major Findings
Insights into two years of our customer data reveal emerging customer preferences and demographic trends.  
Customer demographics are expanding to include non-traditional customers. Our data show a gender split among customers increasingly approaching equality. Women are increasingly joining a market historically populated by male buyers. Women, we found, strongly prefer vaporization devices over traditional ingestion devices. We speculate that spreading awareness and attractive online product offerings have engaged a female market of primarily online shoppers.  
Consumers are broadly shifting away from more traditional ingestion methods toward a variety of vaporization devices. Users are increasingly choosing cartridge-based vape pens, open-system mobile vaporizers, or desktop vaporizers. Notably, dry-herb vaporizers have lost popularity and are perhaps being viewed as anachronistic.
Along with vaporizers, concentrates and distillate products are gaining market share. Market data shows that concentrate use has risen over 200% in 24 months since 2017 and over 100% in the second half of 2018, alone. We speculate that innovative, test-friendly product offerings will continue to drive massive development in the concentrate market. Arcview Market Research estimates that the $3 Billion customers spent nationally on concentrates in 2018 will balloon into an $8.5 Billion market by 2022.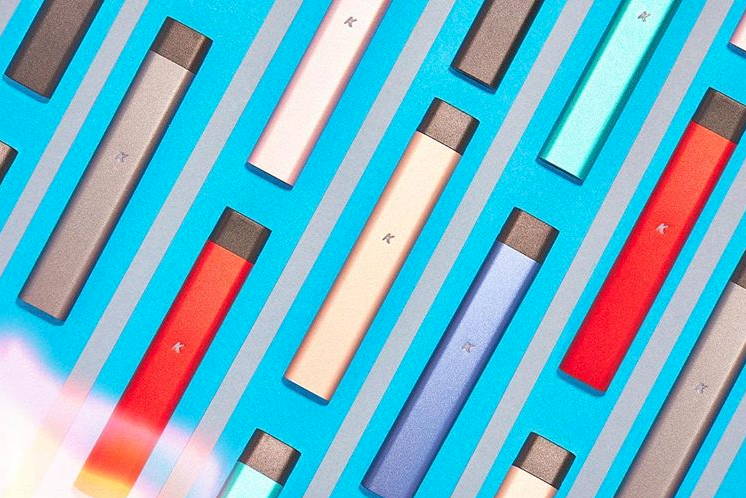 Vaporizers Gain Market Share
Our sales data show vaporizers are exploding in popularity. DopeBoo.com sold more units of vaporizers (38% of all sales) than water pipes, hand pipes, or rolling papers in 2019. Glass pipes have historically been the iconic headshop product offering, but that seems to be changing.
Users particularly enjoy the simplicity of the cartridge-based vape pen design. Our data shows that customers prefer vape pens over portable vaporizers or desktop models. 62% of all vaporizer units sold over two years were vape pens. Vape pens are the most discreet and portable vaping option and the experience of shopping for cartridges in dispensaries is a pleasant experience closely mirroring more conventional specialized goods (e.g. liquor store) shopping.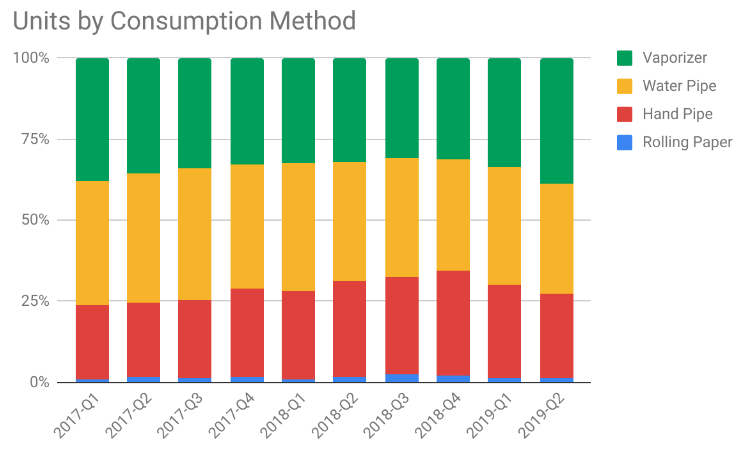 Vaporizers have emerged as a preferable mode of consumption for discreet, portable designs and perceived health benefits (relative to smoking.) Vaporizers, particularly those from KandyPens, largely dodge negative associations tied to dry herb: there is no pressure to devise quality from visual/smell evidence, nor trust-based assumption of strain identity or chemical content.
In the illicit sector, product suppliers had no incentive to offer varied consumption options as consumers were forced to purchase whatever was brought to market. In the legal market, however, competition and innovation have rapidly expanded consumption methods. Newly developed vaporizers differ from early products, which were purchased wholesale from factories in china and adapted from their intended usage with nicotine e-liquids. We expect new vaporizers to debut technologies more suited to concentrates, including auto-metered dosages and new methods for temperature and airflow control.
Consumers are Shifting to Concentrates
Users are increasingly consuming concentrates over traditional flower. Concentrates encompass an array of extracts that vary in viscosity and presentation. Concentrates are consumed with a vaporizers or an adapted water-pipe, called a dab rig. In a short matter of years, concentrates have become an exciting emerging product. The popularity of concentrates has driven technological investment into vaporizer technology, which will continue to enhance the vaporizers' capabilities and ease of use. In much the same way that black market users were introduced to and began their learning journey with glass pipes and flower, legalization and sanctioned laboratory experimentation has produced a new generation of products that will continue to impress new and legacy consumers.
Current trends suggest the realization of a fully-fledged and sustainable concentrate market. DopeBoo data shows a massive adoption of concentrates, reflected in a 200% increase in concentrate sales in 24-months since 2017. Consumers who prefer concentrates cite discreet consumption, comparably less stigma, perceived health benefits, and association with the dispensary shopping experience.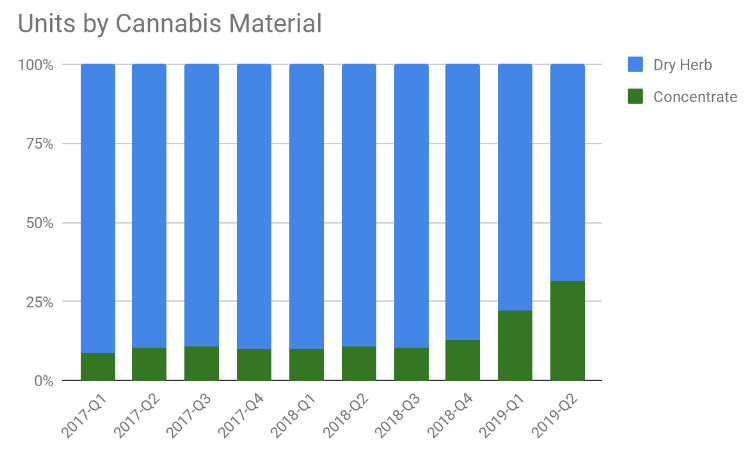 Recreational and medical dispensaries in developed markets are pleasant, with highly knowledgeable staff and an element of novelty attached to their wide, rotating selection. Dispensary visits will remain industry-standard as long as large chain pharmacies do not introduce competing product lines and internet delivery remains unavailable. The industry has developed a sales model that is welcoming, informative, simple, and repeatable for new users.
According to Arcview Market Research, concentrates represented just 10% of sales in 2014 and as much as 27% in 2017. Concentrates will continue to gain market share and will rival flower as the dominant consumption modality as soon as 2022. Flower might eventually become the secondary mode of consumption, as looming federal legalization will inevitably demand a level of product assurance and FDA testability that concentrates can satisfy and flower cannot. Modern technology struggles to test chemical concentrations in flower due to its lack of uniform physiology.
Female Shoppers Driving Industry Growth
Two years of customer data show that DopeBoo's online headshop is increasingly tended by women.
DopeBoo's increasing vaporizer sales are largely driven by female buyers. DopeBoo customer data shows women are 2x more likely to purchase vaporizers for ingesting concentrates, over traditional devices for ingesting flower. If DopeBoo's data can be extrapolated into societal trends, women are implicated in the significant jump in national concentrate sales.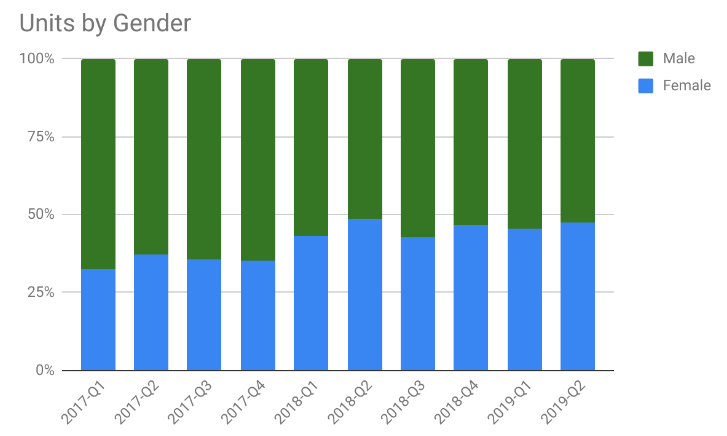 Women buyers account for 46% of all sales in 2019. Women represented just 32% of customers in 2017. Women are likely emerging as a major customer demographic due to women's preference for shopping online and a burgeoning awareness of health-positive benefits.
According to statistics released by the SAMSHA annual National Survey on Drug Use and Health, the percentage of female monthly users, ages 18 - 25, has rose from just 12.1% in 2007 to 19.2% in 2017, an increase of 59% over a decade. In the same amount of time, monthly use among males increased by a less dramatic 21%. From 2015 to 2017, monthly use among men increased 6%, compared to 19% among women.
Informative discourse online and in traditional social groups, such as Ellementa, disseminate the information that converts women buyers. Influence Central published results from a study that found middle age women rate internet searches, social media groups, and other moms' input among the top sources informing buying decisions. Women's groups have a powerful and influential role in educating female buyers and pointing them toward certain products. We speculate that these trends will continue to play a key role in women's representation within the industry, its products, and technology offerings.
Women and other non-traditional markets will increasingly join the market, creating the need for a new diverse range of products. According to our data, inclusion of non-traditional markets will continue to drive interest in vaporizers and concentrates, signifying an key, customer-driven market shift.  
Follow DopeBoo for more insights from our online headshop customer data.